About Therese Kayser Lindsey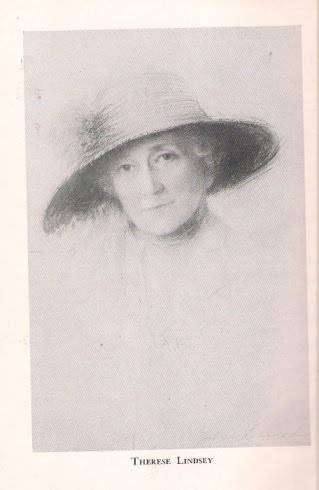 Therese Kayser Lindsey was an influential early twentieth-century Texan poet.
Born to Austrian/Hungarian immigrant Albert Kayser and Mary Lawrence in Chappell Hill, Texas, in 1870, Therese Lindsey's education began in the Tyler public schools and culminated in her studies at Texas State University, the University of Chicago, Harvard University, and Columbia University. In 1892 she married Sam A. Lindsey, with whom she had a daughter, Louise, six years later. She traveled extensively in America and Europe, but resided in Tyler for many years.
Therese Lindsey wrote poems, stories, and plays and received a number of awards for her work. Two of her books, Blue Norther (1925) and The Cardinal Flower (1934), contained lyrics dealing mainly with Texas and nature. A third volume, A Tale of the Galveston Storm (1936), was a long narrative poem recounting the devastating Galveston hurricane of 1900. She also published Collected Poems (1947).
Lindseywas active in poetry societies in America and England, and organized the Poetry Society of Texas with the help of Hilton Ross Greer, a Dallas journalist and poet. She served as the society's first corresponding secretary and later as its vice president. Lindsey established the "Old South Prize," one of the society's major annual awards. She died in Tyler on April 3, 1957, and was buried in Oakwood Cemetery in that city.
In 1978, Lindsay's daughter Louise Lindsey Merrick endowed the Therese Kayser Linsey Chair at Texas State University (then Southwest Texas State University). The Lindsey Reading Series is a collaboration resulting from that endowment and from the support of Texas State University, the Katherine Ann Porter Literary Center, and the Burdine Johnson Foundation. Since 1978, the Lindsey Reading Series has brought hundreds of prominent authors to central Texas to deliver free pubic readings of their work.
Radio
From Collected Poems, by Therese Lindsey
I
We brand our sounds and loose them pigeon-free,
And practice on them some new falconry.
II
We have coined the content of the wind by sleight;
We have picked the pocket of silence. This serenading
Discloses sound to be as fleet as light,
As all-pervading.
This miracle which we have overtaken,
This weird contriving through the Vast with man,
Suggests no heaven's too strange for him to reach
Or God to plan.